Where Are They Now?: Martin Johnson
One of the most world-renowned rugby players, Martin Johnson saw a glowing career on the pitch. But what is he up to now that he's hung up his rugby boots? 
Who is Martin Johnson?
Enjoying a career spanning sixteen seasons, Martin Johnson is regarded as one of England's greatest players of all time. Johnson played a total of 362 games with his only senior club team, Leicester Tigers and 84 with the England national team. He was England captain for 39 matches including the 2003 Six Nations Championship and the 2003 Rugby World Cup in which England were crowned champions.
Martin was a captain of the Leicester Tigers team that won the 1997 Pilkington Cup and four consecutive Premiership titles between 1999 and 2002 he also led them to become the first team to retain the European Cup for both 2001 and 2002.
Becoming the first man to be named captain for two British and Irish Lion Tours and continuing his successful sporting career as a manager after retiring, Martin Johnson is considered a rugby legend.

What Is He Up To Now?
Martin Johnson's love of rugby has followed him through into the next stage of his career as he is now a part of the BBC commentary team. Joining the punditry team right before the Six Nations tournament, Johnson was excited to relive some of his best memories alongside Welsh rugby legend Sam Warburton.
From The Pitch To The Saddle
Since retiring from rugby, Martin has developed a keen interest in cycling, after purchasing many bikes of his own he has gone to see five Tour de France races live as a commentator and cycled 100 miles through London as one of the 24,000 participants in the Prudential RideLondon.
Picking up a completely different sport, Martin explains that in cycling you either have the power or you don't whereas in rugby you need knowledge, determination and instinct to be a good player. His love of sport, however, comes from the 'human side of it' and simply getting out there and contributing to a group or team.
In April 2019, Johnson led a new squad in the 150 Velo Birmingham and Midlands CBRE Business 100 cycle. Martin led a team of riders in a 40-mile training session ahead of the big 100-mile race which took place in May.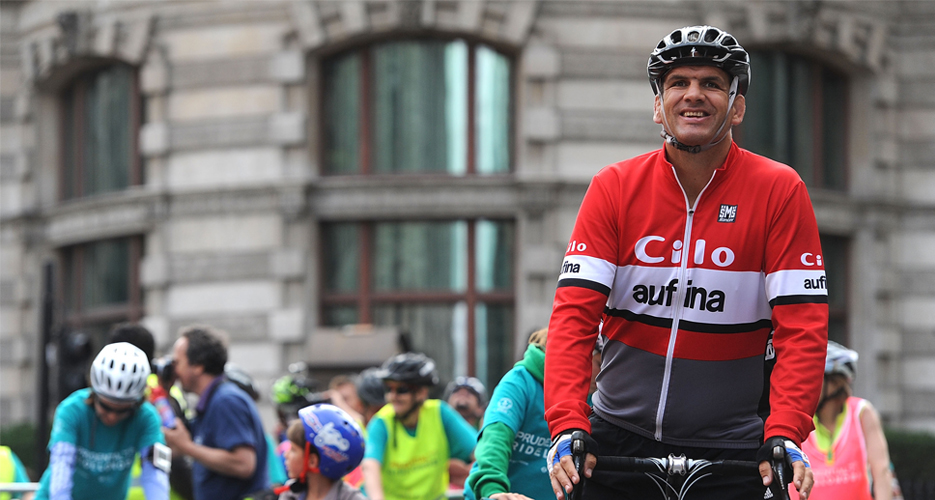 After Dinner Speaking
Realising the importance of teamwork and determination throughout the entirety of his sporting career, Martin Johnson is also now one of the nation's favourites keynote speakers. Having already demonstrated his versatility through participating in widely different sports and commentating as a pundit, Johnson is a common booking for businesses and sports clubs.
Whether it's motivating a group of executives to reach maximum performance, suggesting sporting tactics to clubs or offering leadership advice to business owners, Martin is a guaranteed hit as an after-dinner speaker.
Book A Rugby Speaker Today
Browse our extensive selection of after dinner rugby speakers able to motivate and inspire guests at any event or corporate function.
To book Martin Johnson or any of our other experienced rugby speakers available at the Champions Rugby Speaker Agency, simply get in touch with one of our dedicated team members today or call directly on 0207 1010 553.