The Evolution of Women's Rugby
Women's rugby has come on in leaps and bounds in recent years, with England's most recent win at the Six Nations is a key indicator of how much women's rugby has improved over the 130 years since it first started. To fully understand the scale of its growth let's take a look back into the history of women's rugby from the very beginning.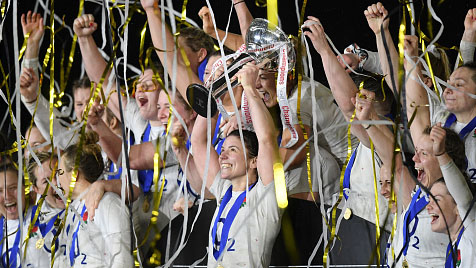 The First Record of Women Playing Rugby
Similar to the start of rugby as a sport, the history of women in rugby is incredibly vague. There is very little information on how and when women started playing rugby. What is known is that around 1884, Portora Royal School in Enniskillen, Ireland formed the school's first rugby team which included a young woman called Emily Valentine, making her the first official woman to play rugby.
Furthermore, in 1891, there is a record of an attempt at a women's touring team in New Zealand, however, this was stopped due to social unacceptance, and the team was forced to disband. Primarily, women had to play the sport in secret to avoid public pressure and societal issues. It is only until 1917, that a first official charity match at Cardiff Arms Park featuring female teams, Cardiff Ladies and Newport Ladies, is documented.
Moreover, it is not until after the second world war, where the roles of women changed, that women's rugby began to take root. In 1962, the first ever recorded women's rugby union team took form at Edinburgh University and the first fully documented women's club match took place at Toulouse Femina Sports, in France. This led onto the first national association for women's rugby union, the AFRF, and the formation of women's rugby unions in universities across Canada, the USA, the Netherlands and Spain. In 1978, Canada and the Netherlands were the first to form non-university rugby clubs, and other countries across the world were soon to follow.
The Growth of Present Day Women's Rugby
The widespread acceptance of the game, as well as females taking part in various sports led to women's versions of major rugby union tournaments. The first of these began in 1991 with the Women's Rugby World Cup, which has been played every four years since. The women's Five Nations was introduced in 1999, which has now developed into the Six Nations, that we have today. The featured International rugby union teams include England, Wales, Scotland, Ireland, Italy and France.
The increase in publicity in women's rugby has massively helped to project the female sport onto a higher platform and expand its popularity. From news articles to having its own segment on sporting channels such as Sky Sports, women's rugby has come a long way. Most recently, the Women's Rugby World Cup received a primetime slot on ITV.
Additionally, rugby as a sport has most recently been accepted into the Olympics, with its feature of both male and female competitions in the 2016 Rio Olympics. The massive achievement for the sport will encourage more male and females to get involved with the sport, setting it up for future generations to come.
The New Generation of Rugby Players
The standard in women's rugby has rapidly increased, with younger and stronger players pushed to the very best of their abilities. For example, one of England's most impressive and highest achieving players, Heather Fisher, set a standard like no other for future female rugby players to achieve.
Moreover, with the most recent England team updated and reshuffled, as a form of rebranding for upcoming games and tournaments, there are a few new faces on the block that you may not have heard of, such as Claudia MacDonald and Kelly Smith. Not only that, but there are a variety of young women quickly becoming serious ones to watch for the future. Here are a few up and coming female talents to watch out for, including Vicky Fleetwood a member of the female Saracens senior squad and England international squad, Charlotte Caslick an Australian professional player, Ellie Boatman a member of the female Saracens senior squad, and Ellie Green a member of Harlequins Ladies.
Finally, in January 2019, every member of the England Women's rugby team received full time contacts for the new season, making them the first women's rugby team in the world to go fully professional. Thus showing the RFU's commitment to growing the women's game. Another turning point for the sport was the Josephine Sukkar-sponsored Australian Super League becoming one of the first major sponsors for the female sport. As many players often go unpaid during games, this a massive step to ensure that all members of female teams in the future get paid for their participation in the sport, just like the male teams.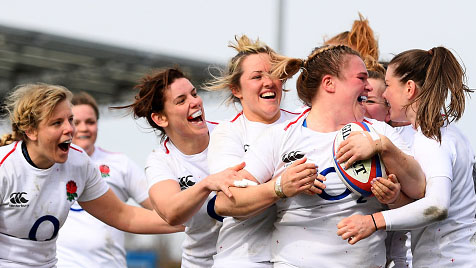 Booking a Rugby Speaker For Your Event
Our expert team at Champions Rugby Speakers are on hand to help you find the right personality for your corporate events, gala dinner, product launch, award ceremony and charity events. If you would like to book one of our rugby speakers, simply contact our team at Champions Rugby Speakers by filling in our online contact form or calling our agents directly on 0207 1010 553.