Jeff Probyn On The Barbarians
Former England and BaaBaas player, Jeff Probyn gave us a fascinating insight as to what it is like to play for The Barbarians, England and prepare for a Rugby World Cup. See the full interview below.

You captained The Barbarians, Jeff, what does it mean to play for them?
"It's a great privilege. I've been on the Barbarians Committee as well so I've seen it from both sides, as an administrator and as a player. Playing for the Barbarians is probably one of the most special games you can play. It's like the Lions because you have a lot of internationals from different countries, but a wider spread of countries. And they throw in the odd uncapped player so there is great camaraderie. Phil Bodger was a sad loss, he was the man who made The Barbarians what they were.
"Playing for them was always fun. You played a different style of rugby. Of course, it didn't matter really. The results mattered when you were playing but not long term. It gives you a chance to show different sides to your play, and how you can play a different style. People pigeonhole you as a player and The Barbarians give you a chance to break out of that pigeonhole. Obviously, you bring a group of players together who haven't played together. They have maybe two training sessions together- have a lot of fun mixing and building team spirit. Then they have to put a game together on the field. They play slightly reckless rugby.
"Barbarians have changed over the years. It's a great shame that Premiership clubs don't allow their players to play for them anymore. So Barbarians have tended to go further afield."
Joe Marler retired from England and has been picked for The Barbarians' squad. Does playing for The Barbarians offer a second chance to get back in the England setup?
"That's the amazing thing. Quin's have broken the mould - up until then Premiership sides haven't let player's play (for The Barbarians). I think Joe (Marler) was probably told he wasn't going to get many games for England. Vunipola has made the number one spot his, so Marler had a tough decision to make. He probably walked away a bit too soon but Barbarians are a great team for those players. I know, because as soon as you got dropped from the England team, Barbarians give you a chance for a bit of 'revenge' shall we say.
"As he's the one that walked away from it, it is that bit more difficult to get back into the England team. With me, in 1993 they dropped me to the bench. I played for The Barbarians against Australia who were World Champions at the time. I scored I try between the posts and got back in the England side, so yes it gives an opportunity. But he retired, it's his decision, he wasn't dropped so it's difficult to for them to ask him to come and play for them."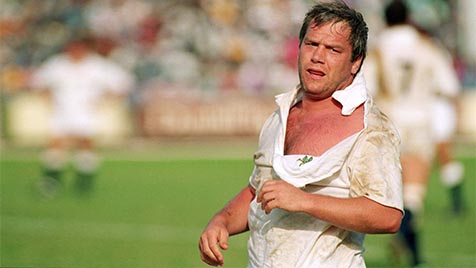 Is the game ideal preparation for England ahead of a World Cup?
"Eddie Jones won't want to lose this game. Going into the World Cup he wants to win all the warm-up games. And this is a warm-up game, so Eddie Jones will want to win this. But he won't want necessarily to risk some of his senior players so he might bring in some of the players on the fringes to see if they're a World Cup runner or not.
"To a certain extent, you have to perform ahead of the World Cup. But you're caught between the devil and the deep blue sea in many ways, in the sense that you've got to perform but you don't want to get injured. Making sure you put in the performances to show why you should be picked. The argument is as an international, you're a leader in your team. There's an argument that as an international, you should be playing at a club level, far better than anyone else. If you drop down in terms of your intensity, maybe the coach will decide not to pick him, or put him on the bench. Back in my time, if you were a bench player you didn't get on the pitch. We had subs but the only way they'd get on is if someone dropped dead, and the doctor confirmed they were dead. But you want to be a starter not a finisher."
You were a World Cup Runner Up. What preparations go into one?
"It was the only time the gold medal was given to the runners-up. Johnson Matthews were the sponsors in 1991 and gave a gold medal to the runners up and platinum to the winners, so I have a gold medal for a World Cup final, what can I say.
"I went to two World Cups, the 1987 World Cup, the inaugural one. The preparations were fairly standard. But by 1991 we'd incorporated all the stuff they're doing now in terms of fitness. And this was the amateur days. We had Loughborough on board, Brett Haysby who was the god as far as fitness was concerned. A lot of the fitness instructors today actually learnt from him. He was the guy that changed the way England trained and played in a way because we were so much fitter than everyone else. Which is why we won the 1992 Grand Slam with no problems. The only team to win back to back grand slams in what, 50 years.
"It was because we adopted those professional attitudes to fitness. So our summer was quite extreme. We had fitness tests and fitness camps to get us in a position where we had a chance and could possibly win. The unfortunate thing, with the way the World Cup was in those days, we played the All Blacks in the first game. We hadn't faced them for eight years so no one knew what we were up against. Which is always a difficult thing.
"I used to watch videos of my opposite numbers to see how they played and their technique. The coaches would give us the game plan, and we'd take it from there."
To book Jeff Probyn as the rugby speaker for your corporate event, function or conference, simply contact Champions Rugby Speakers by filling in our online contact form or by calling a booking agent directly on 0207 1010 553.